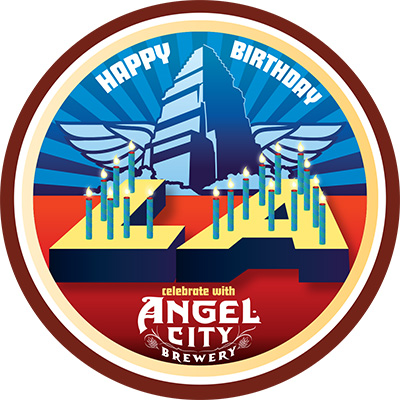 Los Angeles is known for movie stars, pristine weather, and gorgeous beaches, but one thing you might not think about is beer. With an ever growing beer scene and breweries popping up throughout the region, Los Angeles based brewers are quickly putting themselves on the craft beer map.
Founded on September 4th, 1781, Los Angeles is set to turn 233 this year and one local brewery that is making waves throughout the city wants you to celebrate with them! Angel City Brewery is situated in the heart of Downtown LA's arts district and truly draws it's inspiration from the city itself. With such a great love of what Los Angeles has to offer, they've partnered with us to to celebrate LA's birthday in a big way - with a brand new badge!
The "Happy Birthday, LA!" badge will be available during the month of September and can be unlocked by checking in to any three (3) beers from Angel City! Celebrate the founding of one of the greatest cities in the county by enjoying amazing beer inspired by the city itself!
To learn more about Angel City Brewery, check out http://angelcitybrewery.com and for the latest, follow them on Twitter, Facebook and Instagram. If you happen to be in Los Angeles, we highly recommend stopping by for a beer and enjoying their wide open tasting room.