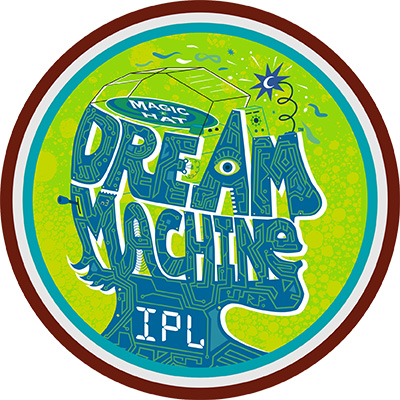 Visions of hops swirling through your head as you drift off, dreaming of amazing flavors and aromas. Your mind ponders the most balanced mix of hops, malts and citrus, blending together to form the most perfect beer imaginable. Unfortunately, this is all a dream and while the perfect beer may not exist, Dream Machine comes close.
From our friends at Magic Hat, Dream Machine, an India Pale Lager or IPL, is a melding of varied visions of an India Pale Ale and an Amber Lager. Upon first sip, a smooth hop bitterness reveals itself — before subtle hints of mild maltiness appear. A big hop bite and a crisp, clean lager finish combine for a beautifully balanced beer.
To kick off the Dream Machine experience, we've got a new badge for you to earn. Starting April 15th and running through June 15th, seek out and check-in to at least one Dream Machine from Magic Hat. Released in early March, Dream Machine may still be making it's way to you, so be sure to check around.
For more information on Magic Hat and Dream Machine, check out http://www.magichat.net and be sure to follow them on Instagram, Facebook, Twitter!