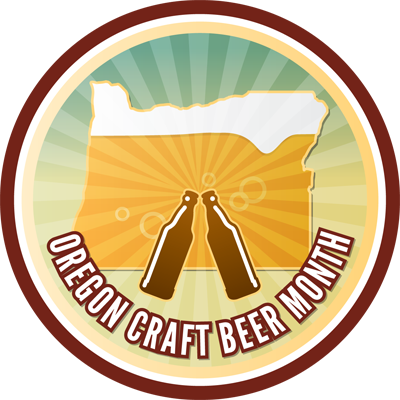 The state of Oregon has a very thriving beer community and happens to be (as of 2010) the 2nd largest producer of craft beer in the country. There are new breweries and brewpubs popping up constantly, all with their own unique flavor combinations and brew recipes. With the help of the Oregon Brewer's Guild, a group dedicated to the continued expansion and promotion of Oregon based brewers, the month of July has been dubbed Oregon Craft Beer Month.
To show our support to such a great beer resource as is the state of Oregon, we present to you the Oregon Craft Beer Month badge. This badge can be unlocked by partaking of three different beers from Oregon based breweries featured on the list below. Also, being that Oregon Craft Beer Month started on July 1st and we're a little late to the game, we're allowing this badge to be retroactive. If you've happened to have had 3 Oregon beers already (since 7/1), your next will unlock the badge!
Cheers to you Oregon. Keep up the great work and keep the amazing beers flowing!
4th Street Brewing Co.
10 Barrel Brewing Co.
Alameda Brewhouse
Ambacht Brewing Co.
Amnesia Brewing Company
Astoria Brewing Company
Barley Brown's Brewpub
Beer Valley Brewing Co.
Beetje Brewery
Bend Brewing Co.
Big Horse Brewery
Bill's Tavern & Brewhouse
Block 15 Restaurant & Brewery
Boneyard Brewing
Breakside Brewery
Brewers Union Local 180
BridgePort Brewing Co.
Burnside Brewing Co.
Calapooia Brewing Co.
Caldera Brewing Co.
Cascade Brewing
Cascade Lakes Brewing
Coalition Brewing
Columbia River Brewing Co.
Deschutes Brewery
Double Mountain Brewery & Taproom
Eugene City Brewery
Max's Fanno Creek
Fire Mountain Brewery
Flat Tail Brewing
Fort George Brewery
Full Sail Brewing Company
Gilgamesh Brewing
Golden Valley
Green Dragon
Hair of the Dog Brewing Company
Heater Allen Brewery
Hop Valley Brewing
Hopworks Urban Brewery
Laurelwood Brewing Co.
Lompoc Brewing Co.
Lucky Labrador Brewing
MacTarnahan's Brewing Taproom
The Mash Tun
McMenamins
Mia and Pia's Pizzeria & Brewhouse
Migration Brewing
Mt. Hood Brewing
Mutiny Brewing Company
Natian Brewery
Ninkasi Brewing Co
Oakshire Brewing
Old Market Pub & Brewery
Oregon Trail Brewery
Pale Horse Brewing
Pelican Pub & Brewery
Philadelphia's
Raccoon Lodge and Brewpub
Rock Bottom Brewery
Rogue Ales
Seven Brides Brewing
Silver Moon Brewing
Southern Oregon Brewing Co.
Standing Stone Brewing Co.
Steelhead Brewing
Terminal Gravity Brewery
The Prodigal Son Brewery and Pub
Three Creeks Brewing Co.
Upright Brewing
Vertigo Brewing
Walkabout Brewery
Widmer Brothers Brewing Company
Wild River Brewing & Pizza