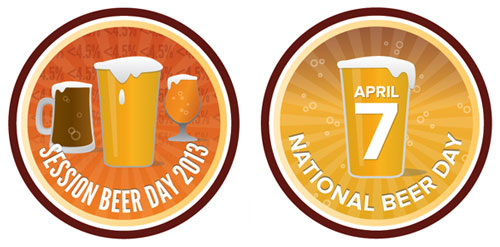 We all know that no excuse is needed to celebrate the glory that is beer, but there are a few key dates during which we should raise an extra pint. This coming Sunday happens to be one of those days as we gear up to celebrate both National Beer Day and Session Beer Day.
On April 7th, 1933, Prohibition ended and there was much rejoicing. While there were still restrictions on the ABV allowances, this opened the door for the American craft beer revolution to take hold and grow to what it is today. To celebrate, we're bringing back our National Beer Day badge for 2013! Be sure to check-in to any beer on Sunday, April 7th and it's all yours!
Something we as craft beer drinkers often forget is that a great tasting beer doesn't have to have an high ABV. As some breweries race each other to have the highest, some of the best beers out there keep it low. This Sunday also happens to be Session Beer Day, a day in which we celebrate these low ABV beverages - anything 4.5% and below. We're also bringing back our Session Beer Day badge for 2013, so be sure to check-in to any beer with an ABV of 4.5% and below (ABV must be listed as such in Untappd to count) to get it!