For our friends north of the border, we are pleased to announce that we have partnered with the Ontario Craft Brewers to create a badge in celebration of Ontario Craft Beer Week! To date there are over 100 events and tasting opportunities in 40 communities across the province from Windsor to Vankleek Hill.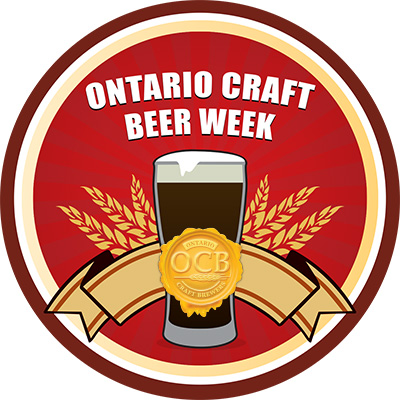 Starting on Father's Day, June 17th and running through June 24th, Ontario Craft Beer Week will kick into high gear, bringing the best of Ontario's beer community to the people. To unlock this badge, simply check in to a beer by one of the following Canadian Craft Breweries (listed below) AND attach your location at one of the participating venues (also listed below) during Ontario Craft Beer Week! Be sure the you have both a listed brewery and venue on your check-in to be granted the glory of the OCBW badge.
For a complete list of events, be sure to check out http://www.ocbweek.ca.
Breweries
Locations
Arrow & Loon
Baker Street Station
barVolo
Beertown Public House
Betty's
Black Oak Brewing
Black Swan
Borealis Grillhouse & Pub
Brass Taps Pizza Pub
Brothers Beer Bistro
Bryden's
Burger Bar
C'est What
Clocktower Brew Pub
Dave's Roadhouse
Desotos Eatery
Duke Of Somerset
Duke Of York
Fynn's of Temple Bar
Grand River Brewing
Happy Traveller
Harbord House
Kichesippi Beer Co.
Latinada
Mill Street Brewpub - Ottawa
Mill Street Brewpub - Toronto
Monarch Tavern
Morgan's on the Danforth
Nick and Nat's Uptown 21
Old English Pub
Prohibition Gastrohouse
Renaissance Toronto Downtown Hotel
Sarah's Cafe
Schnitzels European Flavours
SESSION 99
Sir John A Pub
Stout Irish Cafe
The Albion Hotel
The Barley Room Pub at the Warning House
The Beast Restaurant
The Cheshire Cat
The Cornerstone
The Crooked Cue - Mississauga
The King Edward 
The Lancaster Smokehouse
The Local Gastropub
The Mugshot Tavern
The Only Cafe
The Rhino
The Ship
The Twisted Kilt
The Urban Element
Victory Cafe
Woolwich Arrow Pub
Zaphod BeebleBrox