We know how much our users love their badges, so today we have a double dose of awesome for you! That's right! Not one, but two special edition badges for you to earn!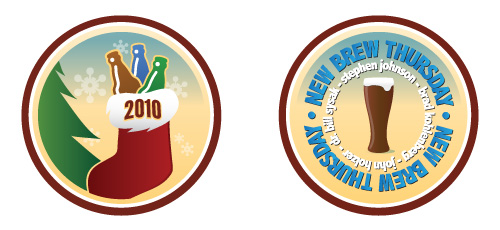 First, as thanks to the guys at New Brew Thursday for having us on their show this week, we are launching a badge in honor of them. In the spirit of learning about new beers, this badge is all about stepping outside of your comfort zone and trying something you've never had before! Enjoy a new beer on Thursday, for three Thursdays with in a 30 day period to unlock this badge! Be sure to check out the latest episode featuring Samuel Adams Infinium and an interview with co-founder Tim!
Additionally, we're continuing to get into the holiday spirit at Untappd HQ and as our way of wishing you a very merry Christmas, we're announcing our "Merry Brew-mas 2010" badge! Be sure to check-in on Christmas day to earn this excellent digital stocking stuffer!
Quick Reminder: Nominations for the Crunchies will be ending on the 24th, so if you can spare a second, we would greatly appreciate it: http://untpd.it/crunchiesvote
As always, thank you all for your support!