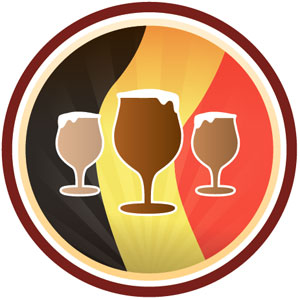 When discussing the great beer countries of the world, one can't get very far without mentioning Belgium. Considered by many to be a beer paradise, Belgium has a great number of time tested breweries and iconic styles. Unfortunately, it's not always easy to find these authentic brews, but thankfully there are importers in the US with a passion for all things Belgium.
We're extremely excited to announce our partnership with one such importer, Vanberg & DeWulf, who will be celebrating their 30th anniversary with their annual Coast to Coast Toast™, a tribute to Belgian beers. On November 15th, an estimated 350 bars, restaurants, and shops across America will feature Vanberg & DeWulf beers and raise a toast to the importer that has been singularly dedicated to building Belgian beer connoisseurship in the USA.
To celebrate this great anniversary, we have a brand new badge for you to unlock. Show your support for America's premiere Belgian importer and check-in to at least one beer from the Vanburg & DeWulf portfolio from November 15th to December 15th and you will be rewarded with the "Belgian Holiday" badge.
Wait, that's not all! Not only can you unlock this awesome badge, when you do, you will be given an entry code with which you can enter to win a trip for two to Belgium. Yes, you read that correctly, Untappd and Vanberg & DeWulf are teaming up to send one lucky user and a guest to "beer paradise" for a three night vacation courtesy of the Belgian Tourist Office and Delta!
Stay tuned for more details as the 15th approaches!
For details on how to participate in the Coast to Coast Toast, please visit: http://belgianexperts.com
This giveaway is open to legal US residents only.

The list of qualifying beers is displayed below: